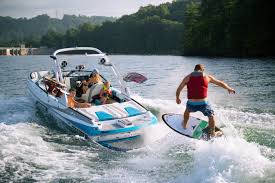 Loudon, TN | November 6, 2014 — Axis Wake Research proudly unveiled its all-new T23 in San Diego this week, at the annual national dealer meeting. As the latest addition to the Axis lineup, now featuring five wake/surf models, the T23 is the company's answer to massive customer demand after the success of the first traditional-bow Axis, the T22, which debuted last year. Coming in at a foot and a half longer than the T22, and with room for as many as 16 people, the newest Axis is built for those who want maximum versatility and unrivaled performance in a bigger traditional-bow boat.
CEO Jack Springer matched the excitement of the crowd gathered for the unveiling. "We knew we had a winner from the start with Axis Wake Research, but we've been amazed at how quickly and powerfully the brand has grown, with Axis now the number-four player in the market," said Springer. "Five boats in five years, plus Surf Gate, is huge. And so is the T23. This is one big, bad, beautiful boat, and we are so pleased to launch it here with you tonight. It looks amazing, but just wait until you get it out on the water. We are incredibly proud of this beastly machine."
As always with Axis, owners get the absolute best boat for the money in the industry—without question. The T23 is a pure performer, with a painstakingly engineered wake-and-wave-maximizing hull and a hard-tank ballast system. And with upgrades like the Auto-Set Wedge and the revolutionary Surf Gate, riders of all levels can ride and surf world-class, effortlessly customized wakes and waves. The T23's helm features a top-of-the-line swivel seat, precision Livorsi throttle, and easy, agile steering, while its expansive lounge area sports plush, high-end vinyl upholstery—now standard across the Axis line—in the most spacious cockpit available in an entry-level 23-footer.